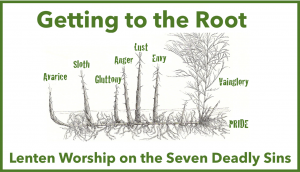 The season of Lent is traditionally one of preparation for Holy Week, and of repentance – dying to our sinful habits and selves in order to deepen our union with Christ also in new life and resurrection.
This year through Lent, we'll be centering our worship and preaching on the long Christian tradition of the Seven Deadly Sins. The name is imprecise – all sin is potentially deadly. But these represent seven areas of sinful habits in human lives, ways that our sinful nature shows up, and stubbornly persists even in Christian lives.
The image is of a bamboo shoot. Think of the long, underground root as that of Pride. It is the source of all the Seven. So we'll start with that, and then proceed through the others with the goal of more thoroughly rooting out the sin in our lives and community, and preparing fertile ground for Christ's new life within and among us.